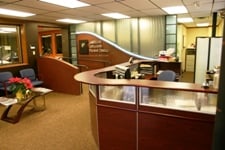 SWOPT prides itself in the relationship that we form with our patients. Most of our relationship become more like a friendship and we offer that support that the patients need to help get to their goals and feel better. We are so lucky to have some amazing patients that inspire us everyday with their stories, struggles, and triumphs. Today we feature a story by our patient named Delores. We interviewed Delores about her time at SWOPT and here is her story. We want to thank her for her story.
Why did you come to SWOPT?
"When I first came to SWOPT, I had a chronic back condition and was in extreme pain on a daily basis to the extent that routine tasks-sitting at my desk work, emptying the dishwasher, walking more than a few feet-was very difficult. I simply could not continue with the degree of pain and disability."
How has SWOPT helped?
"With the help of the professionals at SWOPT, my back pain has become manageable. Over the time as my pain worsened, my physical condition became steadily worse. Through the physical therapy, I have become stronger physically and gained the tools to use when my chronic condition worsens so that it does not get as bad as it was when I first started therapy.
Also, they have provided support and encouragement for my efforts to lose weight-66 pounds so far. I had pretty much given up on getting my weight under control because I was not physically able to do much.
Although I orginally arrived with a chronic back condition, the professionals at SWOPT have also seen me through recovery from knee surgery and the resulting flare-up of the arthritis in the other knee. They didn't give up on me-so neither did I."
What have you learned?
"The biggest thing I've learned is not to give up on myself. If I can't do everything I want to do, I can still make progress in managing my chronic health conditions by just doing as much as I can."