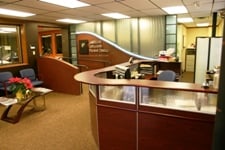 At Southwest Orthopaedic Physical Therapy, our patients are the most important part of what we do. It is thanks to them that we are able to continue to do what we love which is help our patients heal. We very excited to share a personal story from on of our valued patients, Leah. Please enjoy reading her story and we hope it can be used as an inspiration for others that face similar injuries.
"I injured my shoulder when I left Afghanistan after a brief deployment (I was a DOD civilian volunteer). The pain in my shoulder was so intense at time I could not lift my arm to put on my coat or raise my hand to turn the car steering wheel. I had no confidence to carry a heavy object or lift my grandbaby. I was really fed-up with the pain and inconvenience. I had been to another PT office in another state. That PT gave me minimal improvement. When I arrived in Albuquerque, I knew I needed more treatment, but was very skeptical. My PA, Larry Hamner, recommended I try SWOPT.
The treatment offered by SWOPT was first class! In only a few weeks, the pain was reduced to a fraction of what it was at my first visit. The combination of targeted exercises and muscle manipulation was the combination I needed. Now I have confidence knowing I won't have an accident or drop my grandson. I truly did not think PT was going to help me get better, and I am so pleased that I got the help I needed.
STAY WITH THE EXERCISES! SWOPT will give you the tools to STAY healthy, but YOU have to provide the motivation. An injury is not the end of your life, it's the beginning a new phase. SWOPT can help you enter that new phase with the tools and support needed to make you feel the best you can."
Thank you Leah for sharing your story and advise for anyone facing a shoulder injury. Please let us know if you would like to share your own personal story and become on of our many success stories.