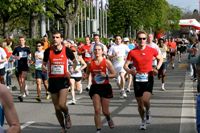 At Southwest Orthopaedic Physical Therapy, we see a lot of patients who enjoy running and many come to see us just to get back to running again. Running is used for overall health and wellness, to help lose weight, and as a hobby and stress reliever. For many runners, competing in marathons is something to strive to do. For the extreme in runners and athletes, the Ironman triathlon is the ultimate test of their strength and endurance. The Ironman consists of 2.4 mile swim, a 112 mile bike race, and marathon (26.2 mile) raced without a break. This seems very daunting and almost impossible even to many avid competitors. The amount of training for an event like that is almost as daunting as the race itself.
One of SWOPT's employees, Dan completed a half Ironman triathlon and he recounts the feelings of completing in that race with his story below...
"The half Ironman triathlon was a major challenge for me. A half Ironman consists of a 1.2 mile swim, a 56 mile bike ride, and a 13.1 mile run. I trained for over seven months while balancing full time work, family, friends and youth group commitments. On race day I was extremely nervous and kept thinking, "Can I really finish this thing?" I was recovering from an ankle injury and the distance of the event was definitely intimidating. As I started, I told myself, "Here I go, I am committed, whatever happens, happens, I just want to finish." I finished the swim and bike ride faster than expected and the first lap of the run went great. My ankle was holding out and I was feeling strong. Then, my energy level completely crashed and with six miles to go. I walked through every aid station feeling weak and hungry. Everyone encouraged me to "Keep it up!", and as I got closer to the finish I could hear my friends and family cheering me on. So much personal time and effort went into getting to that specific moment that I hadn't really noticed the incredible support system facilitating my success. It felt incredible to cross that line and see all of the proud and happy faces there. I had accomplished the goal, but only with the help of so many others."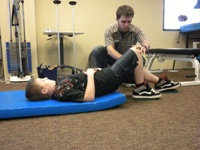 If you have any questions for Dan about the race or anything else, write them in the comments below.