They come in all shapes and sizes. You can get many different colors and styles. They can be found on the street, in offices, in businesses, in homes and of course on the red carpet. They turn heads everywhere they go. They are of course high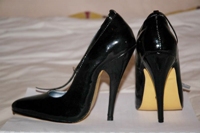 heels and they are popular for every season in every location around the world. High heels split the shoe purchasing community every day. There are some who would never leave the house without at least an extra four inches on their feet and there are some that think that four inches sounds like you would be walking on stilts. Whatever your opinion is, the pros and cons of wearing high heels will both be discussed in this article from two SWOPT employees on opposite sides of the debate.
The Pros by Dani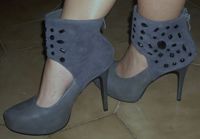 I wear high heels almost everyday if I can get away with it. High heels help the wearer's posture and make the wearer more aware of how they are walking and that builds muscle. Wearing heels also helps support the arch of your foot which can make the foot feel more comfortable. When you wear high heels you tend to feel better because heels have the ability to make your legs look longer and make you appear taller and more slender. Heels also work great with dresses and skirts because they accentuate your calf muscles and make your legs look more toned than when you are wearing flats. If you are an avid high heel wearer make sure to alternate the heel height and even wear flats some days to prevent discomfort.
The Cons by Katie
Did you know that high heels can have irreversible effects on our body? When wearing high heels you can have an increased chance of ankle injuries, hammertoe, or bunions. Wearing high heels can change your weight distribution. This can increase lower back, hip and knee pain by pushing the center of mass in the body forward and doing this puts the hips and spine out of alignment. Depending on how high the heel is can depend on how much the pain can increase. Your calf muscle can shorten and make it uncomfortable to walk without a heel as well. If you still decided to wear heels there are things that you can do to help minimize these discomforts by stretching, yoga, and exercising.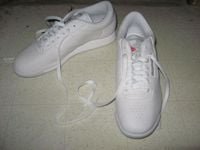 The bottom line in the battle of the high heels is that there are just as many cons as there are pros. The biggest deciding factor is personal preference and needs. What side of the debate do you end up on? Tell us in the comments below!