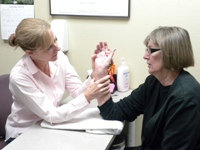 Anyone with an injury or disability wants the best rehabilitation to regain their lost function and return to productive living. The Certified Hand Therapist (CHT) credential offers assurance to the public that the therapist has achieved a high level of competency in the profession and attends continuing education seminars to stay current within the field of hand therapy. Certification is voluntary, available to occupational or physical therapists, and involves meeting rigorous standards. Because of the the requirements to become a CHT, these therapists demonstrate a dedication specific to the profession of hand therapy. There are 5,294 Certified Hand Therapists in the United States, most of whom are Occupational Therapists, and their focus is based from the definition and scope of practice adopted by the Hand Therapy Certification Board in 2009.
Hand therapy is the art and science of rehabilitation of the upper limb, which includes the hand, wrist, elbow and shoulder girdle. It is a merging of occupational therapy and physical therapy theory and practice that combines comprehensive knowledge of the structure of the upper limb with function and activity. Using specialized skills in assessment and planning and treatment, hand therapists provide therapeutic interventions to prevent dyfunction, restore function and/or reverse the progression of pathology of the upper limb in order to enhance an individual's ability to execute tasks and to participate fully in life situations.
Some common diagnoses treated by a CHT include Cumulative trauma disorders or repetitive stress injuries, Dupuytren's contracture, flexor/extensor tendon injuries, infections, inflammatory and degenerative arthritis, arthoplasty, burns, fractures, ganglionectomy, ligament repair, amputations, nerve compression problems like carpal or cubital tunnel syndrome, skin grafts/flaps, or tendon grafts/tendon repairs.
Certified Hand Therapist's love what they do and it shows in their work—Choose a CHT to get the best care available in returning arm function. Southwest Orthopaedic Physical Therapy has one CHT on staff, Karen Garvin, OT, CHT, CKTP.