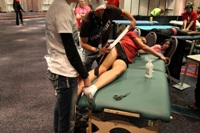 Southwest Orthopaedic Physical Therapy and Kinesio Tape were at the USA Track & Field Indoor National Competition in Albuquerque, NM the weekend of February 26-27, 2011 taping athletes for their events. The event was held downtown in the Convention Center, full of athletes from all over the globe and all types of events from running to throwing to jumping. During Saturday's events, there were two local physical therapist and Kinesio Taping Practitioners on hand to help out the athletes, David Garcia, PT, CKTI and Leslie Boone, MPT, CKTP.
Athletes were requesting to be taped for pain, strains and sprains on various joints and muscles, but the most common taping technique used was for pulled hamstrings and thigh pain.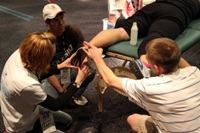 Jillian Camarena-Williams, being taped here for foot pain, went on to not only win the women's shot put competition but also set a new record at 19.87 beating the previous record of 19.83 set in 1987 by Ramona Pagel of Team USA. Jillian Camarena-Williams is a graduate student at BYU, pursuing her master's degree in exercise science. Jillian is also training for the XXX Olympics in London in 2012.
Whether you are a competitive athlete or weekend warrior, Kinesio Tape can help with injuries, aches and pains.
Southwest Orthopaedic Physical Therapy has three Certified Kinesio Taping Pratitioners on staff who are ready to help you and answer any questions you might have about physical therapy and taping. Please contact us at leslie@swopt.net