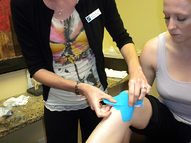 Kinesio Tape has become very popular as a method of taping joints and sport injuries since the olympics. Kinesio® Tex Tape is an elastic therapeutic tape developed by Dr. Kenzo Kase over 35 years ago in Japan. Since then, Kinesio® Tex Tape Gold™ has become the standard for therapeutic and rehabilitative taping.
Kinesio Tape can be more benefical than Athletic Tape for several reasons:
Kinesio Tape is made of gentle cotton that features a latex free medical grade acrylic adhesive, making it more flexible and comfortable than athletic tape. Kinesio Tape also allows free movement of the joint being taped and does not limit range of motion.
Kinesio Tape can be worn while bathing and usually stays on for about 3 days.
Kinesio Tape is applied over and around muscles and joints in order to assist and give support or to prevent over-contraction
Kinesio Tape creates a lifting effect that can improve circulation and relieve pain as well as relax or stimulate a muscle.
Kinesio Tape can provide pain relief by targeting the pain and the source of the pain.
Southwest Orthopaedic Physical Therapy has 3 Certified Kinesio Tape Practitoners on staff. Contact us today to schedule an appointment to evaluate if Kinesio Tape would work for you. If you have any questions reguarding Kinesio Tape please contact me at leslie@swopt.net
Call the clinic now to set up your appointment with a Certified Kinesio Taping Practitioner.